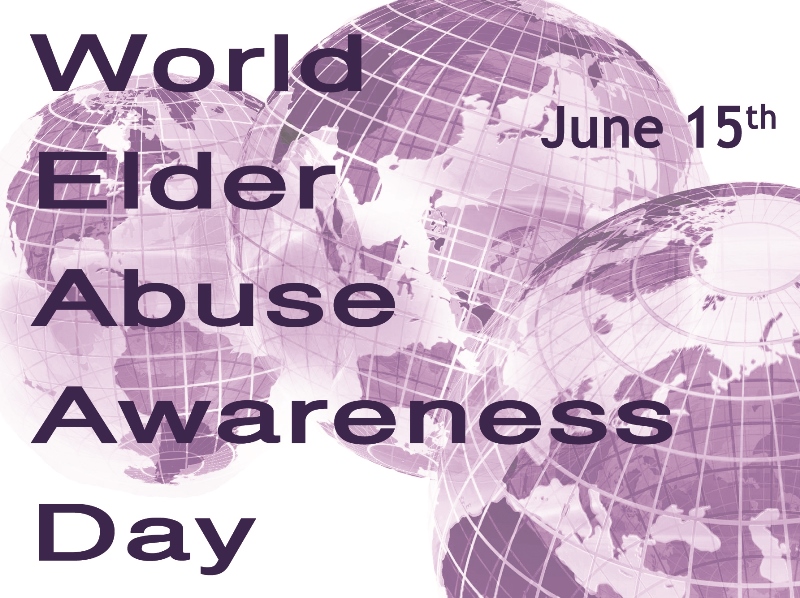 Learn 10 Steps You Can Take to Help Prevent Elder Abuse
Child Abuse and Domestic Violence are recognized around the world as devastating activities that must end and significant global prevention efforts are helping.  However those prevention efforts cannot stop with just the young and middle aged.  Each year millions of older persons are abused, neglected and exploited. Many victims are people who are older, frail, and vulnerable and cannot help themselves.  They depend on others to meet their most basic needs.  Abusers of older adults are both men and women, and they may be family members, friends or trusted others.
World Elder Abuse Awareness Day
To raise awareness and share the message, June 15th is World Elder Abuse Awareness Day (WEAAD). Now in its tenth year, World Elder Abuse Awareness Day, 2015, has the message: One Person, One Action, One Nation—United Against Elder Abuse.  On this important day, communities and municipalities around the United States and the world plan activities and programs to share information and spread awareness about abuse, neglect, and exploitation on the elderly.
Did you know that every day 10,000 people turn 65 in the US alone?  That trend is going to continue for nearly the next 20 years.  The demographics are shifting, and we will soon have more elder people in the US than ever before.  At the same time that the population is growing, we know that a startling number of elders face abusive conditions.  Every year an estimated 5 million, or 1 in 10, older Americans are victims of elder abuse, neglect, or exploitation. And that's only part of the picture: Experts believe that for every case of elder abuse or neglect reported, as many as 23 cases go unreported.
Throughout the world, abuse and neglect of older persons is largely under-recognized or treated as an unspoken problem.  Unfortunately, no community or country in the world is immune from this costly, public health and human rights crisis.
A Call to Action!
WEAAD serves as a call-to-action for individuals, organizations, and communities to raise awareness about abuse, neglect, and exploitation of elders. The International Network for the Prevention of Elder Abuse and the World Health Organization at the United Nations (UN) launched the first WEAAD on June 15, 2006 in an effort to unite communities around the world in raising awareness about elder abuse. WEAAD is in support of the UN's International Plan of Action acknowledging the significance of elder abuse as a public health and human rights issue.
Governments, non-governmental organizations, educational institutions, religious groups, professionals in the field of aging, interested individuals as well as older persons themselves will promote a better understanding of abuse and neglect of older persons by organizing activities around the world to raise awareness of the cultural, social, economic and demographic processes affecting elder abuse and neglect.  Yet individual actions are vital in this effort as well.  One simple step you can take is to wear something purple on June 15th and show your support.
10 Steps You Can Take to Help Prevent Elder Abuse
Want to do more?  There is no question that every act you do, every discussion you have, and every message you share, can make a difference.  Education and awareness are important elements in preventing the abuse and neglect that is happening around the world.
Awareness activities can encompass volunteer or educational programs, cultural and art events, use of information technology, or any activity that aims to create awareness of elder abuse and neglect.  Raising awareness of elder abuse and neglect is a challenge and no effort is too small.  Here are 10 specific steps you can take to help raise awareness and prevent elder abuse:
Learn the signs of elder abuse and neglect.

Call or visit an elderly loved one and ask how he or she is doing.

Provide a respite break for a caregiver.

Ask your bank manager to train tellers on how to detect elder financial abuse.

Ask your doctor to ask you and all other senior patients about possible family violence in their lives.

Contact your local Adult Protective Services or Long-Term Care Ombudsman to learn how to support their work helping at-risk elders and adults with disabilities.

Organize a "Respect Your Elders" essay or poster contest in your child's school.

Ask your religious congregation's leader to give a talk about elder abuse at a service or to put a message about elder abuse in the bulletin.

Volunteer to be a friendly visitor to a nursing home resident or to a homebound senior in your neighborhood.

Send a letter to your local paper, radio or TV station suggesting that they cover World Elder Abuse Awareness Day (June 15) or Grandparents Day in September.
Elder abuse can happen to any older person, a loved one, your neighbor, or it can even happen to you. Together we can make a difference and prevent elder abuse.
For More Information
For more information on elder abuse prevention, please visit the National Center on Elder Abuse at www.ncea.aoa.gov, or the International Network for the Prevention of Elder Abuse at www.inpea.net.