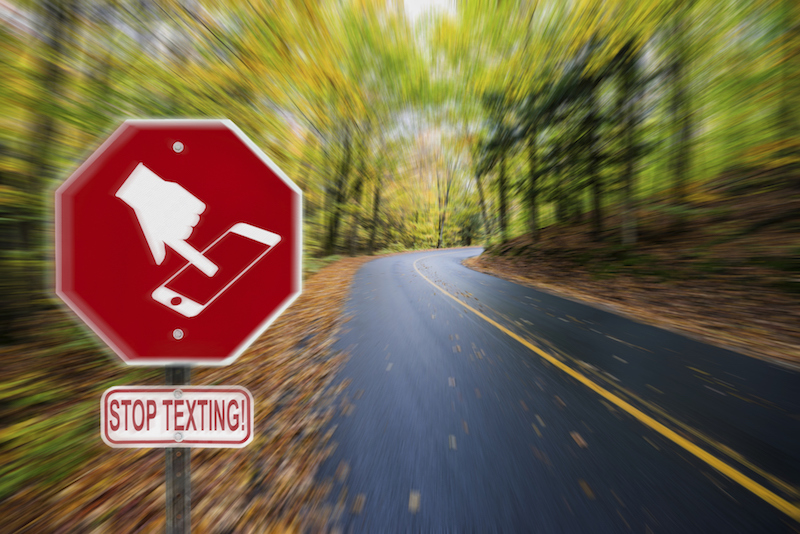 April is Distracted Driving Awareness Month
April is Distracted Driving Awareness Month. This is a time to raise awareness of the dangers and cost of this growing epidemic and from April 8 to 13, 2016, law enforcement personnel will be using a combination of traditional and innovative strategies to crack down on motorists who text while driving. The objectives of the national high-visibility enforcement U Drive. U Text. U Pay. campaign are to: conduct intense enforcement of anti-texting laws, and couple the efforts with advertising, media, and social media outreach to let drivers know about the enforcement and convince them to obey the law.
"Driving and texting is not only dangerous and irresponsible—it's illegal," said Tim Rutkowski, Huron County Prosecutor. "Drivers who break our State's texting law will be stopped and fined. This is a major problem in our country, and we're trying to work toward a resolution by fining violators. If you drive and text, you will pay."
Michigan's Law
Michigan law prohibits a driver from reading, manually typing or sending a text message while driving. Motorists violating this law receive a $100 fine for the first offense and a $200 fine for subsequent offenses. In 2013, more than 2,300 drivers were cited under the texting ban and 682 Michigan drivers were involved in crashes were using a cell phone in some manner.
Distracted driving statistics portray a grim picture: In 2014, an estimated 3,179 people were killed (10% of all crash fatalities) and an additional 431,000 were injured (18% of all crash injuries) in motor vehicle crashes involv­ing distracted drivers.
According to a 2014 special article in the New England Journal of Medicine, the risk of a crash or near-crash among novice drivers increased with the performance of many secondary tasks, including texting and dialing cell phones.
The University of Michigan's Transportation Research Institute's 2012 "Teen Driver Distraction Study" reports that a quarter of teens respond to a text message once or more every time they drive, and 20 percent of teens and 10 percent of parents admit that they have extended, multi-message text conversations while driving.
What is Distracted Driving?
Distracted Driving is performing any activity that is secondary to driving.  Changing the radio station, reaching over for a purse or briefcase, eating while driving, reaching into the back seat because the children are arguing, are all examples of distracted driving.
To really examine distraction, there are three primary types. They are:
Manual distractions

Visual distractions

Cognitive distractions
Any distraction while driving is one of the three, or a combination of them.  Changing the temperature in the car is a manual distraction: you have taken your hands off the steering wheel.  Looking at the radio or GPS display is a visual distraction: it is taking your eyes off the road. Thinking about last night's dinner with your friends is a cognitive distraction: your brain is not focused on driving.  Each distraction may not be as significant as others.  Changing the temperature may be a brief interruption, while reaching into the backseat to search for an item may not be brief and involves more than one type of distraction.
One distraction recognized by everyone as significantly dangerous is texting while driving. The research reveals that someone who texts and drives is 23 times more likely to be in a crash.  That is because texting uses all three forms of distraction: manual, visual, and cognitive.
"Texting and driving requires motorists to take their eyes off the road, hands off the wheel, and mind off the task of driving. This is a recipe for a crash, and that's a scary thought. It's arrogant and selfish to think that your dangerous and illegal behavior is acceptable. No one has the right to put another person's life at risk like that," said Mr. Rutkowski.
U Drive. U Text. U Pay.
The successes of the Click It or Ticket and Drive Sober or Get Pulled Over campaigns have proven that the combination of tough laws, targeted advertising, and high-visibility enforcement can change people's risky traffic safety behaviors. This strategy was implemented as part of the Phone in One Hand. Ticket in the Other. distraction demonstration effort in Hartford, Connecticut, and Syracuse, New York, in 2010 and 2011, and then in Delaware and Sacramento County in 2012 and 2013. In both projects, texting (and cell phone use) declined dramatically. Based on these encouraging results, the U.S. Department of Transportation developed the U Drive. U Text. U Pay. national campaign.
"It's not that complicated: If you text and drive, you will be pulled over and fined. In this county, we're serious about enforcing texting laws," said Mr. Rutkowski.