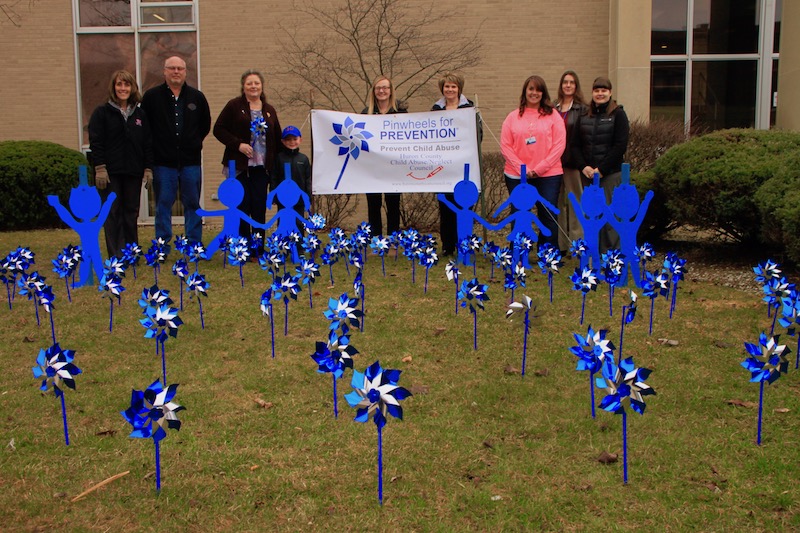 April is Child Abuse Prevention and Sexual Assault Awareness Month
By Elizabeth Herd – President, Huron County Child Abuse and Neglect Council (CAN)
Ignorance is not a crime, but harmful action stemming from lack of knowledge, such as any form of abuse, IS a punishable crime.  And I believe we can all agree that where the safety of our precious children is involved, we hold the laws designed to protect them in high regard.
I read a statement last week that I feel really represents the importance of child abuse education and prevention – the cure to our ignorance and the key to ending child abuse.
"Those children who are beaten will in turn give beatings, those who are intimidated will be intimidating, those who are humiliated will impose humiliation, and those whose souls are murdered, will murder." Alice Miller
A Generational Issue
You see, generation to generation, families pass on parenting styles; gentle or harsh, right and wrong.  We know only what we learn, and we learn often by what has been done to us.  Unless we receive education to know better, we remain trapped in the old, and sometimes dysfunctional and harmful styles of parenting, and will repeat what we know /what we have learned – and we will sometimes pass on a legacy of abuse.  But there is hope.  When we know better, we do better.  It is our job as parents to protect our children from all harm – including our own ignorance and the possible future consequences – to our children and our grandchildren.
It is no different than the multitude of things society has learned over the past century.  Do you know that there was a time (and not so long ago) that we smoked in hospitals?  Even patients were allowed to smoke – in their rooms!  Sounds ridiculous, doesn't it.  But it's true.  You see – when we know better, we do better.
Prevention Education Matters
This is why prevention education is so important.  No one really wants to steal the happiness of childhood from their children, or teach them to be cruel to their children, but many are not yet aware of the consequences of their lack of education and their actions – often until it is too late.  Parents should not be breaking spirits, but should instead be building confidence and character through love, understanding and guidance.  Those are qualities a child will take with them through the rest of their lives and out into the world, providing protection to the next generation.
Of course children need discipline, but when you understand – to discipline means to teach, not to harm – you can teach a child right from wrong in a manner that does not harm them.
As will you see, I like to quote experts in the field of parenting, but that's because through wanting to do better for my children, over many years I have researched and "learned" much from them.
"Meeting a child's aggression with equal grown-up aggression only adds fuel to the fire.  To extinguish aggressive behavior, meet it with calmness and compassion.  Being calm isn't passive – it's mature.  You must be it to teach it" Rebecca Eanes.
And if this is not part of your history – of what you experienced/learned of adults in your life as a child, it will take commitment to practice.
To be gentle does not mean to be lenient. It doesn't mean that you don't guide a child, it simply means that your guidance does not hurt the child, in any way.
"Once you change your view of 'naughty/attention seeking/manipulative behavior' to 'struggling to make sense of the world with an immature brain' you are naturally different in the way you parent and discipline" Sarah Ockwell-Smith.
You understand that you are helping your child to navigate this world through understanding, and with appropriate consequences.
"Change is never easy.  Friends and family may not agree with your parenting choices.  They may think you should be tougher.  They may think you are spoiling your child.  Rest assured, no one has ever turned out wrong because he or she was cared for too much.
Forget what they say and stay focused on your mission: building your connected family.  There is no such thing as too much love and attention.  Not for your partner or for your children.  Shower them with it every single day because none of us knows what tomorrow will bring.
Being respectful to children, empathizing with them, listening when they speak, and showing them kindness is not 'coddling,' or 'spoiling.' It's just treating them like human beings." Rebecca Eanes
Through prevention programs, the Huron County Child Abuse and Neglect Council is dedicated to educating the community and helping everyone understand.  I am proud of our commitment to helping families fulfill their desire to raise healthy, happy children – to help parents break the cycle of dysfunction, abusive patterns of parenting, and to teaching adults how best to protect all children in their lives.  I can't say it often enough – when we know better, we do better, and we can then pass on a "new" legacy.
The CA/N Council kicked off Child Abuse Prevention Month by planting a Pinwheel Garden on the lawn of the County Building in Bad Axe.  We gathered with community partners to celebrate the joy and happiness of childhoods developed through education and prevention efforts of Councils throughout the country.
The blue pinwheel, representing the innocence of childhood, is a national symbol for child abuse prevention.  Pinwheels reflect the bright future all children deserve.  The pinwheel is a positive emblem of the effect we can have when we all work together to prevent child abuse.
A Need for Prevention
Statistics show us the great need for prevention:
Surviving Sexual Abuse
There are over 42 million survivors of sexual abuse in America.

1 in 4 girls and 1 in 6 boys will be sexually abused before their 18th birthday.
Somewhere between 2/3 and ninety percent of sexual abuse victims never tell !!!

90% are abused by someone they know, love or trust, 68 percent are abused by family members.

More then 60% of pregnant teens have been sexually abused.

Witnessing Violence
3.3 million children witness domestic violence in their homes each year

1 in 4 women and 1 in 9 men will experience domestic violence in their lifetime

Children exposed to violence are more likely to abuse drugs and alcohol; suffer from depression, anxiety, and post-traumatic disorders; fail or have difficulty in school; and become delinquent and engage in criminal behavior

Sixty percent of American children are exposed to violence, crime, or abuse in their homes, schools, and communities

Almost 40 percent of American children were direct victims of 2 or more violent acts, and 1 in 10 were victims of violence 5 or more times

Children are more likely to be exposed to violence and crime than adults

Almost 1 in 10 American children saw one family member assault another family member, and more than 25 percent had been exposed to family violence during their life

A child's exposure to one type of violence increases the likelihood that the child will be exposed to other types of violence and exposed multiple times

Reporting Child Abuse and Neglect
A report of child abuse is made every ten seconds.

Every year 3.6 million referrals are made to child protection agencies involving more than 6.6 million children.  3.2 million of those children are subject to an investigated report.

The United States has one of the worst records among industrialized nations – losing on average between four and seven children every day to child abuse and neglect.

Child abuse occurs at every socioeconomic level, across ethnic and cultural lines, within all religions and at all levels of education.

About 30 percent of abused and neglected children will later abuse their own children, continuing the horrible cycle of abuse.

About 80 percent of 21 year olds that were abused as children met criteria for at least one psychological disorder.

Abused children are 25 percent more likely to experience teen pregnancy.

Abused teens are 3 times less likely to practice safe sex, putting them at greater risk for STDs.

14% of men and 36% of women in prison in the USA were abused as children. Children who experience child abuse and neglect are about 9 times more likely to become involved in criminal activity.

The CDC (Center for Disease Control) estimated the lifetime cost to society for dealing with all issues related to the child abuse of just one year's worth of traumatized kids is $585 billion, an astonishing figure that obviously repeats each year !!!
The CDC also links adverse childhood experiences (which include other household dysfunctions along with abuse and neglect) with a range of long-term health impacts.
Individuals who reported six or more adverse childhood experiences had an average life expectancy two decades shorter than those who reported none.
Mental Health Disorders, Addictions, & Related Issues:
Risk for intimate partner violence.

Alcoholism and alcohol abuse

Illicit drug abuse

Smoking and drinking at an early age

Depression

Suicide attempts

Sexual & Reproductive Health Issues and Risk Factors:
Multiple sexual partners

Sexually transmitted diseases

Unintended pregnancies

Early initiation of sexual activity

Adolescent pregnancy and Fetal death

(source – Childhelp.org, National Association of Adult Survivors of Child Abuse)
According to the 2015 report released by the National Child Abuse and Neglect Data Systems (NCANDS):
147,431 Michigan children received an investigation resulting in 34,729 confirmed victims of child abuse and neglect.
Michigan reported 83 child fatalities in 2015 – It is also estimated that between 60-85 percent of child fatalities due to maltreatment are not recorded as such on death certificates.
Prevent Child Abuse America
These statistics are alarming, but reinforce the importance of child abuse prevention.  Under the direction of Prevent Child Abuse America and the Michigan Children's Trust Fund, there are 73 dedicated Local Councils (representing 83 counties) throughout our state, working very hard to bring prevention education to our communities.  We spread awareness of the problem and promote happy healthy childhoods by protecting children through prevention programs, including; Darkness to Light Stewards of Children, Talking About Touching, Love and Logic Parenting Classes, Family Mentor Program, and more.  Prevention education is the only lasting method for ending child cruelty.  For more information about prevention in Huron County visit our website.
To feel the joy of childhood and bring a smile to your face – drive by the county building in Bad Axe to see our Pinwheel Garden display.  And through the month of April, look for the brightly colored hands for sale in local businesses and agencies.  Purchase one, or more (just $1 each) to "Give Us a Hand" in preventing child abuse and neglect in Huron County.  Together, we CAN prevent child abuse and neglect.
My hope for generations of children now and in the future, is that all parents will consciously learn to be better, and each day as you interact with and guide your children keep the following in mind…
"You are raising a little human with thoughts, needs, ideas and a personality all their own.  They aren't perfect any more than you are, and expecting perfection will only lead to conflict, not connection.  When they make mistakes, choose understanding, not anger.  When they make poor choices, choose guidance, not punishment.  When they challenge your authority, choose peace, not warfare.  Remember, you're growing a person, not fixing a problem.
We have to break the cycle of hurting children and sending them into adulthood as hurting humans who believe that children must be hurt to grow into healthy humans.  A hurting human is not a healthy human, and a hurting humanity cannot create a healthy, peaceful world."  L.R. Knost.
(To learn more about positive and gentle parenting – look up these excellent sources of this information.  Respected and world-known authors, Rebecca Eanes, Sarah Ockwell-Smith, Alice Miller and L.R. Knost.)